An appeal to the LA river

Sent to River Authority March 14, 2016
_____________________________________________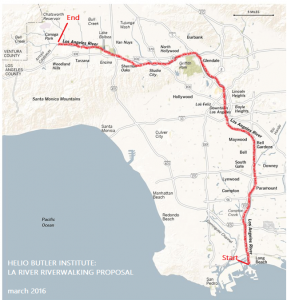 _____________________________________________
To whom it may concern,
The Helio Butler Institute is requesting the permission of the LA River to walk from its mouth in Long Beach to Canoga Park where tributaries converge. We ask that the governing body presiding over access to this public waterway allow for a three person team of qualified researchers to traverse and document what has become the LA River.
We understand there is no loitering, sleeping or settling along the banks. We will follow the river in constant movement.
We will walk respectfully, careful not to disturb any fragile urban ecologies, constellations of refuse or runoff pools. We will gather only images, sounds and memories that future LA residents can experience as a testament to what once was the river that ran along the 710, 5 and 101 freeways.
The goal is to investigate this neglected backbone of Los Angeles; to rekindle an intimacy with the water that runs through the city, water forgotten with each sip from the Colorado. We feel that this relationship is vital to the survival of the river, a component overlooked in current restoration efforts. We see walking as resistance to the vanishing of this path, a river that is defined by its human engagement.
We respectfully ask permission to walk this waterway as researchers, artists and citizens.
Please feel free to contact us with any questions, comments or concerns.
Thank you and look forward to hearing from you soon.
Sincerely,
Maya Land, Alexis Selleck and Nassem Navab
HBI Researchers-at-Large
__________________________________________________________
With no foreseeable response, we hope the person sitting at their computer reading this email at least took a moment to ponder this feat. That for a moment, they thought that this proposal, this intimacy, this restoration was possible.