There is possibly no better museum for this project than the Bata Shoe Museum. The museum has a large variety of footwear to choose from, from all over the world, spanning a history of 4,500 years.
I took V out of school again. Another lovely warm autumn day. We started with the collection in the basement as suggested by the staff at the front desk. There were so many interesting shoes to choose from. I'd like to give every pair a try.
V chose Christian Dior stilettos from the 1950's. They are silver with a small decoration made of strands of leather pieced together into a rounded shape on the toe.
I chose Margaret Atwood's shoes in the display case of celebrity shoes. I happen to be reading Wilderness Tips and Survival at the moment, both of which I came across while sorting through old boxes of books in recent days, so it seemed fitting. I haven't picked up any Atwood since high school.  I believe Atwood calls the Annex home, so we were in the right locale for a Margaret Atwood themed walk – or so I hoped.
V wanted to go to the Island to try walking in her stilettos in the sand. I didn't have the energy to do this, and steered her closer to the museum. I did wonder if any of Atwood's characters are Islanders or if Toronto Island is a setting in any of her books. The following day I read the next story in Wilderness Tips and sure enough one of the characters lives on the island.
Atwood's shoes are crocheted blue cotton with some green near the toes. They have a few green stones sewn on the toe and an ostrich feather positioned sideways. The heels are made of carved wood and are not very high. The caption at the museum reads that her shoes "give us a glimpse into her unique sense of style".
We drew our shoes in our small sketch books. V also chose a dress on display in another part of the museum and added that to her drawing. V pretended that she was taking Atwood's shoes out of my drawing and placed them on my feet and did the same for herself.  She had a practice go in her (impossibly high) heels. She calls high heels "clogging shoes".
We waved at the man and woman at the front desk and off we went onto Bloor Street.
I asked V about her heels – "My clogging shoes feel blanket soft, refreshing, cozy! They are made of real silver and are heavy. They feel like they are giving me high energy when I walk". Again she has a different mode about her. She is walking with purpose in an imagined reality. I swear I could hear her stilettos on the pavement!
We headed west along Bloor street. Since I had said nope to going over to the Island I said okay to going into the nearby playground for her to test out her shoes in the sand. We walked south on Huron and entered the playground. V took her "shoes" off and placed them in the sand next to a play structure. She then poured sand into her imaged shoes. Once satisfied she put them back on, and met me back at the gate to the playground.
I decided I had better walk Atwood's shoes over to Coach House Press. Maybe these shoes had been there before, to one of their parties? We walked around the building peering into all the windows watching the presses whirling and spinning and clickety-clacking. A man was doing tai chi right in front of the entrance. Otherwise we may have knocked on the door to explain our project.
We then headed West along Bloor St. to Spadina. V played on the granite sculpture of large domino pieces at the corner. She said her shoes were going "tappity-tap".
We strolled up into the Annex and walked around a few streets before deciding to go for perogies and a beer at Future Bakery which signaled the end our walk.
Some reflections on this walk:
After today I have realized that I need to let go of my preconceptions of how these walks should go. I will listen more closely to V's suggestions and go with them in the future. In retrospect going to the Island might have been a good idea – although a long walk. I constrain things a bit too much, even in my choice of object. I chose something that I found intriguing, but also that I thought would be comfortable to walk in – which is a bit absurd seeing as I won't be walking in the shoes at all. I applaud V's choice of large stilettos – I wouldn't be able to walk across the room in these even if they were my own size. I realize now that I am being too practical and literal. We will definitely come back to the Bata Shoe Museum. There are so many interesting shoes to choose from.
Next week a walk from our stay in the Gaspésie.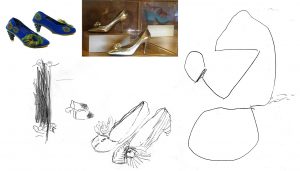 (Click image to enlarge)