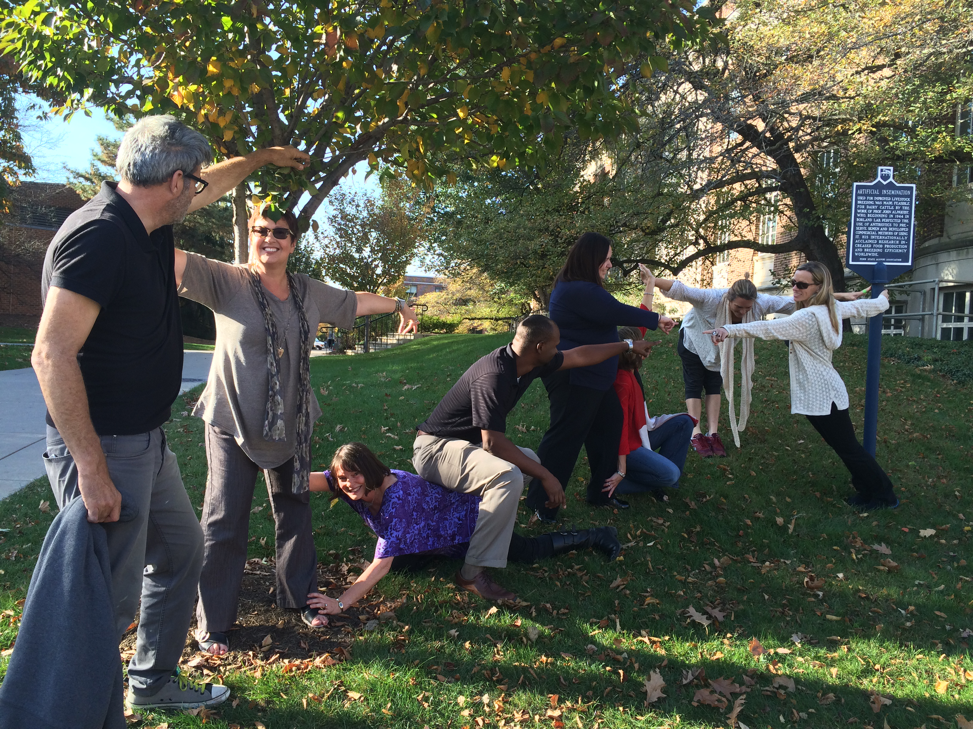 PlayWalking Worksshop, Penn State University Park Campus

The Arts and Design Research Incubator (ADRI) in the College of Arts and Architecture hosted Playwalking: A Workshop, on Wednesday, Oct. 21, 3:30–5:30 p.m., in 16 Borland Building. In the workshop, Kimberly Powell, associate professor of education and art education, guided participants on an "art walk" incorporating chance and play. Participants engaged in movement and sensory activities as they took a walk through campus in order to explore perception and place in a whole new way. Engaging the roll of the die, participants incorporated chance as a form of playful interaction with the environment around them. Our Playwalking involved a 45 minute walk around campus that involved the roll of the die, with each number corresponding to a particular action:
1. Record your surroundings for 30 seconds. Remain quiet.
2. Take a photo of something that engages you.
3. Experiment with movement for 1 minute (e.g., speed up, crawl, dance); record movement.
4. Create a human sculpture that responds to or interacts with the environment; take photo
5. Collect something. Take it with you. (Option, if rolled again): Take the object you collected and place it in your new context. Take a picture.
6. Partner with someone and take turns walking with your eyes closed while the other person acts as a guide for 5 minutes. Take turns. Audio record your thoughts on what you notice.
In the process, we archived the walk with our smart phones, uploading the resulting material, chance encounters to this Facebook page. After the walk, we reflected on what the event produced for us: new perceptions on place, material encounters with the landscape and builtscape; awareness of self in relation to space and place, and the ways in which the element of chance introduced a sense of openness to new encounters with place.
For more information on ADRI, visit: http://sites.psu.edu/adri.